Kathmandu City Tour by Tourist Bus | Kathmandu sightseeing
Overview
Speedy Tourism And Travels Pvt. Ltd. Offers daily Kathmandu city tour package by Bus, car, Tourist jeep, Toyota Hiace, tourist coster in best price. If you are a single traveler or planning to have Kathmandu sightseeing at budget price than our package will be the best deal for you. Our Kathmandu sightseeing includes the main five attraction places.
Kathmandu valley located at a height 1400 meter is a one of the ancient city in South Asia is also known as the city of ancient Hindus temple. Beside this Buddhist monastery, the number of world heritage sites, surrounding green hills with Shivapuri national park, Newari culture and traditional, Newari food & ancient durbar square presenting unique art of wood and stone carving attracts this city thousands number of traveler every year.
Bus Stand
Front of Malla hotel Thamel
Start time | End Time
11:00 am to 05:30 pm to 06:00 pm

Sightseeing

by location

Pashupatinath temple, Guhyeshwari temple,

Boudhanath Stupa, Budhanilkantha temple,

Swayambhu stupa

Price
USD 8 ( negotiable for more than 05 pax )
This Kathmandu Sightseeing by bus takes you to the UNESCO World Heritage Sites:
Tour by reserved Vehicle
Bellow tour package provides you best taste of Kathmandu ancient UNESCO hertiage sites, temples, stupa & famous view point Nagarkot at an elevation 2175 Meter.
| | | | |
| --- | --- | --- | --- |
| Location ( Pashupatinath , Boudhanath, Bhaktapur, NAGARKOT, Patan, Swayambhu ) | Capacity | Duration | Price |
| By car | 4 seat | 9-10 hour | USD 70 |
| By Jeep (Mahindra Scorpio or Tata storm safari ) | 7 seat | 9-10 hour | USD 100 |
| By Toyota Hiace | 17 seat | 9-10 hour | USD 120 |
| by Sutlej Bus | 35 seat | 10-11 hour | USD 280 |
| Tour Guide ( English | French | Russian | Spanish ) | | per day | USD 30 |
You can reach Nagarkot at end for sunet view or Swayambhunath temple at evening for 360° view of Kathmandu city.
Pashupatinath Temple:
Pashupatinath sanctuary is one among the important hallowed places for Hindus and furthermore alluded as the national god of Nepal, which is arranged at the bank of Bagmati River inside the Kathmandu valley. Being an origin of Buddha and memorable occasions and exercises of numerous Hindus master, the Himalayan nation Nepal is generally known as a sacred nation. It is one of the heavenly and touristic spots for Buddhism and Hinduism adherents, just as for different guests as well. Since much old auxiliary proof and the blessed book have affirmed it. In 1979, the primary sanctuary and its zone enrolled in the UNESCO's World Heritage Sites list.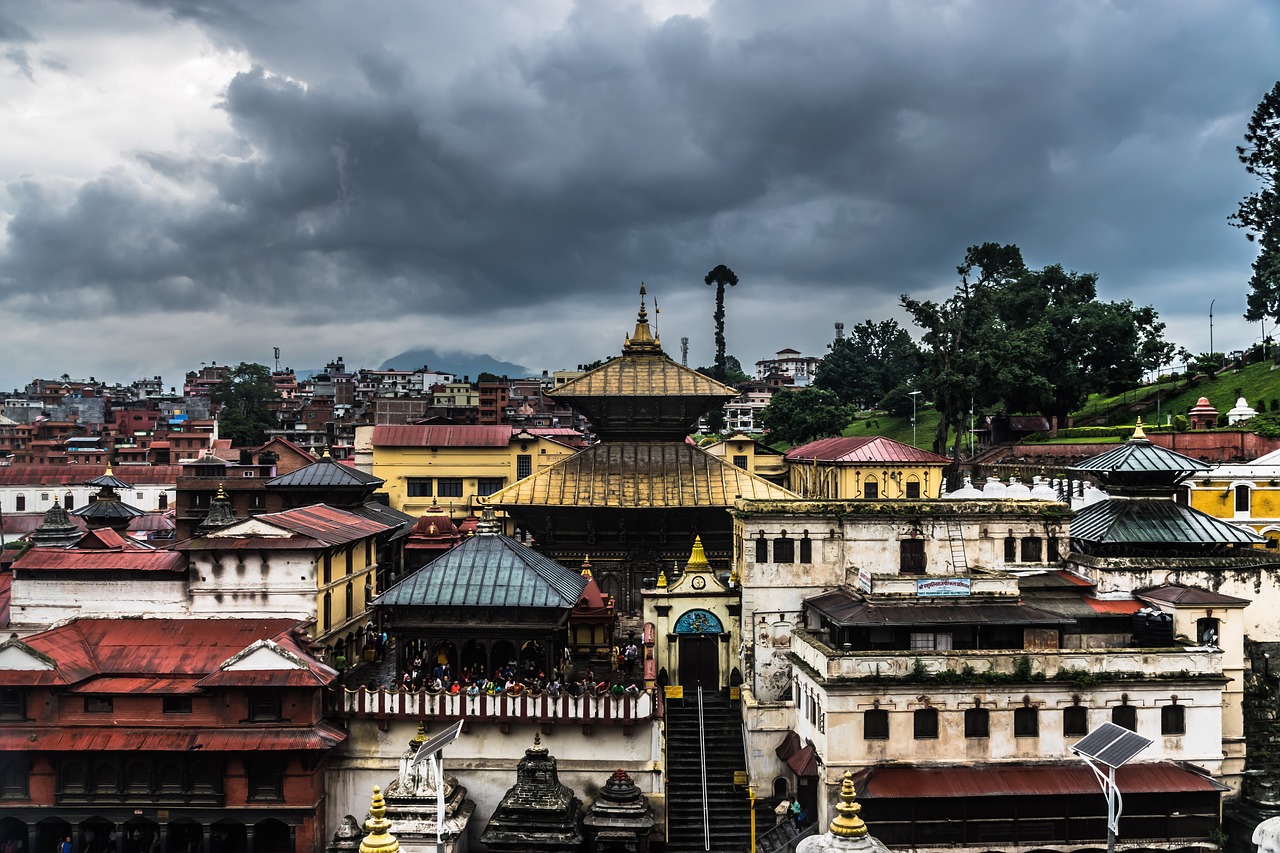 Swayambhunath Stupa:
Swyambhunath (Monkey Temple) is an antiquated religious complex on a slope in the Kathmandu Valley, west of Kathmandu city. It is a standout amongst the most sacred Buddhist sites in Nepal, second just to the incomparable Boudhanath stupa toward the east of Kathmandu, and a noteworthy vacation destination. It is the most antiquated and mysterious of all the sacred hallowed places in Kathmandu Valley. It has a grandiose white vault and a sparkling golden spire that are noticeable from all sides of the valley. Stupa surroundings comprise of chaityas, sanctuaries, painted pictures of divinities and various religious items. Situated on a slope on the edges of Kathmandu, the sanctuary bears heavenly perspectives over the city and on a sunny morning to the mountain's past. At the core of the sanctuary, the complex is the stupa, beaten by according to Buddha, encompassed by petition haggles littler sanctuaries.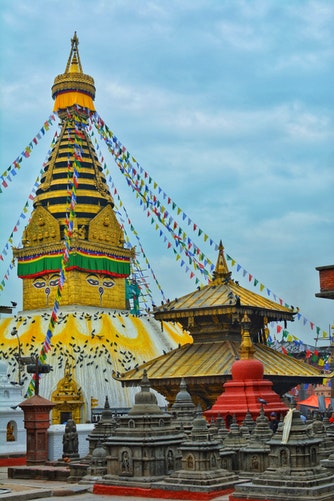 Boudhanath Stupa:
Boudhanath Stupa is the biggest stupa in Nepal and the holiest Tibetan Buddhist sanctuary outside Tibet. It is the focal point of Tibetan culture in Kathmandu and wealthy in Buddhist imagery. The stupa is situated in the town of Boudha, on the eastern edges of Kathmandu. Boudhanath was presumably worked in the fourteenth century after the Mughal attacks; different fascinating legends are told with respect to the explanations behind its development. After the entry of thousands of Tibetans following the 1959 Chinese attack, the sanctuary has turned out to be a standout amongst the most significant focuses of Tibetan Buddhism. Today it remains a significant spot of journey and contemplation for Tibetan Buddhists and neighborhood Nepalis, just as a well-known tourist site.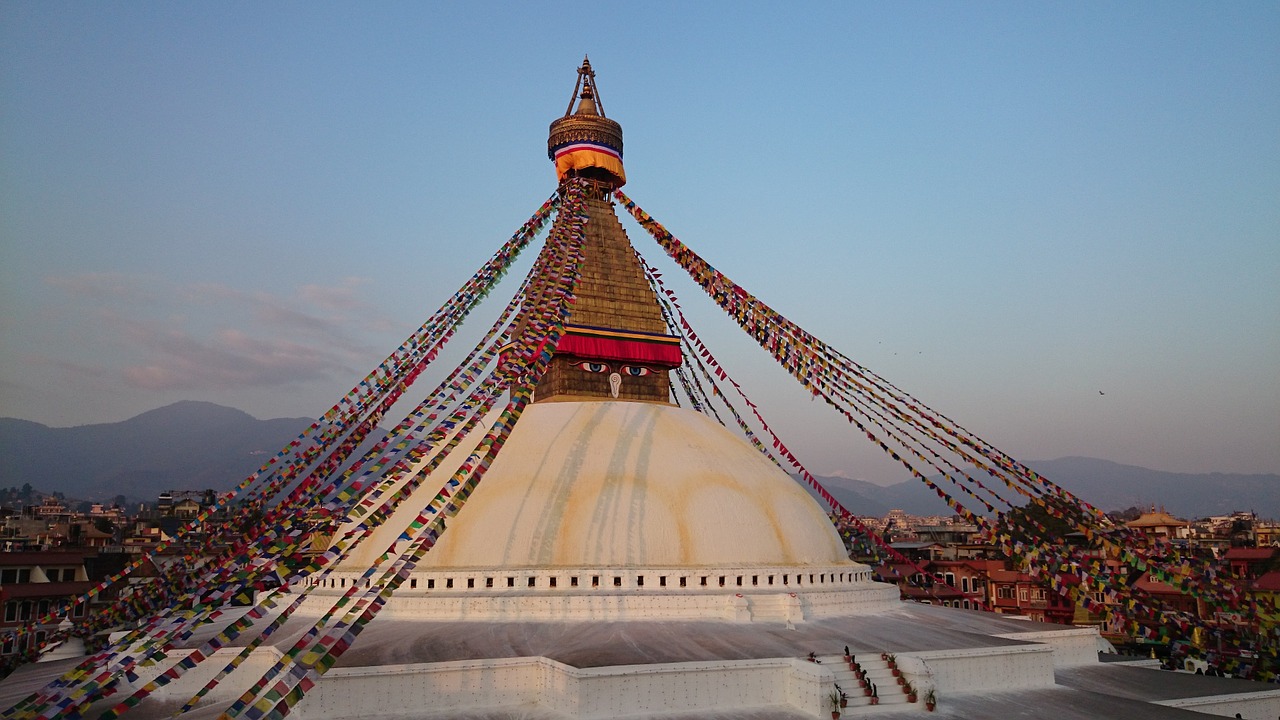 Kathmandu Durbar Square:
Kathmandu Durbar Square ("UNESCO World Heritage Site") also known for Hanuman Dhoka square is one of the real attractions in Kathmandu Valley. The greater part of the social focuses of Nepal is thought around the Kathmandu valley; among those social locales, the significant one is the Hanuman-Dhoka Durbar Square. The name Hanuman-Dhoka Durbar originated from the statue of Hanuman set up by the King Pratap Malla at the passageway of the illustrious royal residence in 1672 A.D. storeyed home worked by King Prithvi Narayan Shah in 1770, is called Basantapur Durbar(palace). The entire complex is otherwise called Kathmandu Durbar Square. Situated at the core of the antiquated city in Kathmandu it is surrounding both Hindu and Buddhist sanctuary. A large portion of them is worked in the pagoda style adorned with unpredictably cut outsides just as Most of the structures we see here date from the fifteenth to the eighteenth century. The Durbar Square, with its old sanctuaries, castles, embodies the religious and social existence of the general population. The major Interesting things to see here are "Kumari (The Living Goddess) Gar" "Kastha Mandap" Maru Ganesh, Mahadev Temple, Shiva Parvati Temple, Bhagwati Temple, Old castle, Saraswoti sanctuary, Krishna Octangular Temple, Big drums, Kal Bhairav, Jagannath Temple, and Taleju Temple and so on.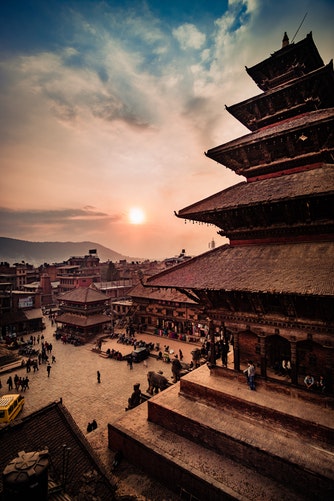 Bhaktapur Durbar Square:
"Bhaktapur Durbar Square" the city is additionally known, for museum hall of medieval art and architecture with numerous instances of model, woodcarving and giant pagoda sanctuaries sanctified to various divine beings and goddesses which is 15 km a long way from Kathmandu. It is a mixture of the pagoda and shikhara-style sanctuaries assembled around a fifty-five-window palace residence of block and wood. The square is a standout amongst the most enchanting design masterpieces of the Valley as it features the antiquated specialties of Nepal. The brilliant representations of lords roosted on the highest point of stone monuments, the gatekeeper divinities watching out from their havens, the wood carvings in each spot swagger, lintels, uprights, tympanums, portals, and windows-all appear to frame a well-coordinated orchestra. Earthenware and weaving are its major customary enterprises.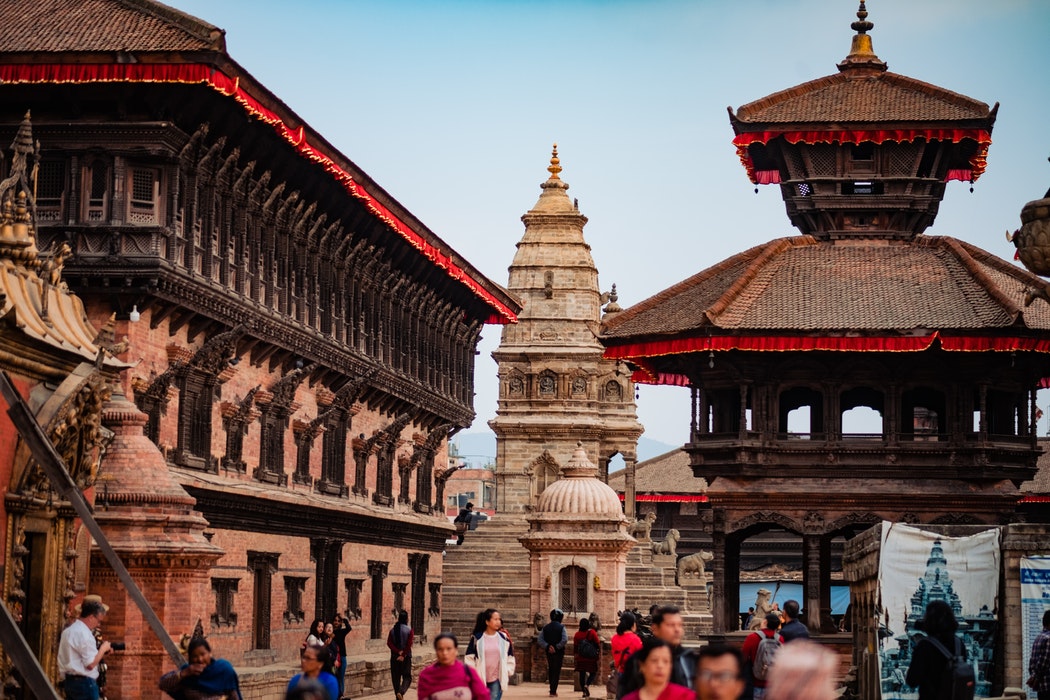 Trip Information
Trip Duration : 1 days
Country : Nepal
Group size : Min 1
You May Also Like