Overview
Kalinchowk Tour is situated in the eastern sloping area of Nepal in Dolakha region. This tour is acclaimed for Kalinchowk Bhagwati Temple which is situated on the highest point of a slope at the height of 3842M. This sanctuary has a place with the goddess Bhagwati renowned for the satisfaction of travelers implore and want. Other than the journey, it offers a shocking perspective on Mt Gaurishankar, Jugal, and Annapurna and Everest. Another inspiring component of this trek is we can see a wide range of individuals from various culture and rank living with amicability and multi-culture like Sherpa, Tamang, and Brahmin, Chhetri's can be seen amid the adventure. Rhododendron forests, birds and animals found in this locale is another feature. This district is situated in the Gaurishankar protection territory where two popular rivers Sunkoshi and Tamakoshi starts which later achieves stream Koshi one of the biggest streams in Nepal. Taking a couple of hours climb from Kuri Village 3200 m Kalinchowk Bhagwati temple can be achieved which is situated at the highest point of a slope.
Kalinchowk Tour Package starts and finishes in Charikot from were while starting, you'll be ascending through the beautiful scenes and astonishing rhododendron forests getting the periodic short looks at birds and animals. Passing through Kuri, a little settlement in transit you will touch base at Kalinchowk to appreciate the fantastic perspectives on various snow-capped mountains Langtang Himal, Shisha Pangma, Dorje Lakpa, Ganesh Himal, Jugal Himal, Gauri Shankar and so forth naming few and even Kathmandu valley in case you're sufficiently honored for the permeability all things considered. The spot which is the ideal goal for every one of the Hindus and different religious individuals will be simply exceptional and will remain in your memory even long after.
Kalinchowk 1 Night/2 Days package with Vehicle Service ( FourWheel Jeep ) Cost:
Services

Price

Vehicle Cost (Four-Wheel)

Minimum of 3 Person/ Maximum of 8 Person)

225 US$

Room+Dinner+Morning Breakfast

(Per Head)

70 US$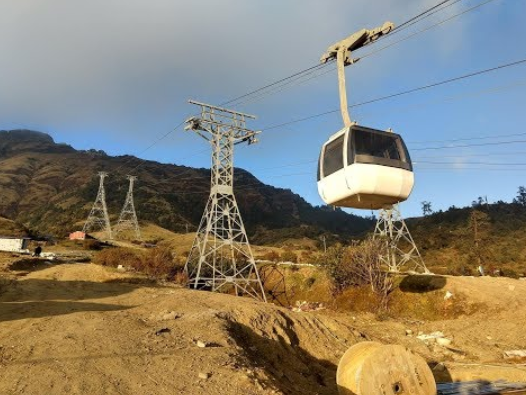 Kalinchowk Cable Car Ticket Price:
| | |
| --- | --- |
| Nepali Adult | 500 Nrs |
| Foreigners | 1000 Nrs |
| Student | 375 Nrs (25% Off) |
| Elderly (Above 65 years) | 375 Nrs (25% Off) |
| Disable | 375 Nrs (25% Off) |
| Child Below 3 Years | Free |
Investigate the assorted varieties whether it's cultural, geographical or diverse vegetations and faunas, whenever of the year which is orchestrated by your very own best partner, Speedy Tourism and Travel.
Day by Day Trip Plan
Day 1: Greeting at Tribhuvan International Airport (Transfer to Hotel)
Our Speedy Tourism and Travel member will meet you at the airport and exchange to your inn. As you spruce up after your long voyage, you will be approached to visit our office for instruction on your program. You will have a gathering with your trekking guide and talk about the equipment required for the trekking and we will process for the trekking permits. If you arrive around evening time, we will have a similar discussion in the next day morning.
Day2: A full day recreational tour of Kathmandu
The exceptionally next morning, after breakfast you will be taken for an entire day touring visit around Kathmandu valley. You can visit the focal point of pilgrimage Pashupatinath Temple and Swyambhunath, exceptionally ancient and basically enrolled in UNESCO World Heritage sites. The greatest Buddhist Stupa at Boudhanath may make you feel quiet and harmony and visit Patan the city of expressive arts and Durbar Square is brimming with Hindu sanctuaries and Buddhist landmarks. On an adventure back to the lodging, you can investigate the neighborhoods and way of life. After your supper, you can maybe go for a relaxed walk through the well-known streets like Thamel and Durbarmarg.
Day 3: Drive to Charikot and Trek to Kuri Village
Picking you from the Hotel and driving the whole distance to Charikot (150 km) for around 5 hrs., furthermore, touching base on Charikot trek tough to Kuri, a small village can be view and remain medium-term at there.
Day 4: Hiking to Kalinchowk Bhagwati Temple
Early morning moves to Kalinchowk Bhagwati temple for the amazing dawn see from where you can in like manner value the superb displays of different mountains and the delightful valleys nearby the fluctuated scenes. Medium-term at Kuri(optional) or you can in like manner drop that equivalent day if you wish to.
Day 5: Trek to Charikot and Drive back to Kathmandu
Breathing the natural air and getting a charge out of the delicate stroll in the domain, trek towards Charikot. Subsequent to touching base at Charikot we head out back to Kathmandu with the excellent drive. Farewell dinner in Kathmandu Hotel.
Day 6: Final Departure
Today is free or a minute ago you have few hours uncommon looking for your friends or relatives. If you have additional time you can do some shopping or sightseeing. We will drop you to the International Airport to get your trip back to your home and wish for your Safe journey.
Info
Kalinchowk Bhagwati Mandir Darshan.
Dolakha Bhimsen Mandir Darshan.
Rolwaling Range and Tamakoshi Hydro-control see from Cham puja Hariyali Park
4WD Off-Road Drive Experience.
Landscape and Amazing Mountain View.
Snow activities (During Snowfall).
You May Also Like