Overview
Kalinchowk Tour
Speedy Tourism and Travel offer you one of the popular 1Night/2Days Kalinchowk tour package which incorporates a scenic drive of 5hours (either taking Scorpio/ Bolero as your request) from the Kathmandu city following Araniko Highway to Charikot then a rough road of about 2 hours to a beautiful village Kuri Village where we will remain overnight at Kalinchowk Kuri Hotels and the next day we will take a Kalinchowk Cable Car ticket for which price is Rs 500 and reach to Kalinchowk Bhagwati temple which elevation is 3842m and offers a shocking perspective on Mt Gaurishankar, Jugal, and Annapurna and Mount Everest and during Poush/Magh (December- February) a heavy Snowfall in Kalinchowk can be captured . Another inspiring component of this trek is we can see a wide range of individuals from a various culture living with mutual cooperation Sherpa, Tamang, and Brahmin, Chhetri's can be seen amid the tour. Rhododendron forests, birds and animals found in this region is another feature. This district is situated in the Gaurishankar protection territory where two popular rivers Sunkoshi and Tamakoshi starts which later achieves stream Koshi one of the biggest streams in Nepal. Taking a couple of hours to climb from Kuri Village 3200 m Kalinchowk Bhagwati temple can be achieved which is situated at the highest point of a slope.
Kalinchowk Tour Package starts and finishes in Charikot from were while starting, you'll be ascending through the beautiful scenes and astonishing rhododendron forests getting the periodic short looks at birds and animals. Passing through Kuri Village, a little settlement in transit you will touch base at Kalinchowk to appreciate the fantastic perspectives on various snow-capped mountains Langtang Himal, Shisha Pangma, Dorje Lakpa, Ganesh Himal, Jugal Himal, Gauri Shankar and so forth naming few and even Kathmandu valley in case you're sufficiently honored for the permeability all things considered. The spot which is the ideal goal for every one of the Hindus and different religious individuals will be simply exceptional and will remain in your memory even long after.
Kalinchowk 1 Night/2 Days package with Vehicle Service ( FourWheel Jeep ) Cost:
Services

Price

Vehicle Cost (Four-Wheel)

Minimum of 3 Person/ Maximum of 8 Person)

225 US$

Room+Dinner+Morning Breakfast

(Per Head)

70 US$
Kalinchowk Tour Package For Nepali
Kalinchowk Tour package for Nepali cost is NRs 8000 per person for 1 night/2 day with all the accommodation and travel services. For the Kalinchowk Cable car Ticket Price, we have mentioned the ticket price on given below table: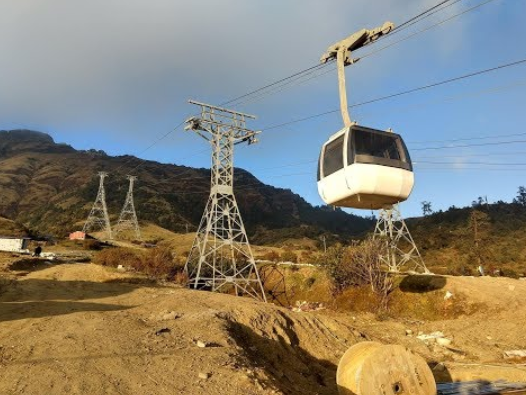 Kalinchowk Cable Car Ticket Price:
| | |
| --- | --- |
| Nepali Adult | 500 Nrs |
| Foreigners | 1000 Nrs |
| Student | 375 Nrs (25% Off) |
| Elderly (Above 65 years) | 375 Nrs (25% Off) |
| Disable | 375 Nrs (25% Off) |
| Child Below 3 Years | Free |
Kalinchowk/Kuri Village Hotels:
General Hotels prices in Kalinchowk Kuri Village
| | | | | |
| --- | --- | --- | --- | --- |
| S. N | Rooms | Costs | Include | Excludes |
| 1. | Room with double beds | 1500-200 NRS | Accommodation | Food |
| 2. | Room with 3,4 beds for squads | 3000 NRS | Accommodation | Food |
| 3. | Room with attached washroom and WIFI | 3000 NRS | Accommodation | Food |
Five Popular Hotels in Kalinchowk Kuri Village
Place: Kuri Village
Contact No: +977 49-690589
Place: Kuri Village, Nepal
Contact No: +977 984-9528761
Hotel Sajina and Guest House
Place: Kuri Village, Kalinchowk Rd, Kuri Village, Nepal
Phone: +977 986-0936703
Place: Kuri Village
Phone: 9844406270
Place: Kuri Village
Phone: 9851183057
Investigate the assorted varieties whether it's cultural, geographical or diverse vegetations and faunas, whenever of the year which is orchestrated by your very own best partner, Speedy Tourism and Travel.
Day by Day Trip Plan
Day 01: Kathmandu to Kuri Village
We will leave from Kathmandu at around 7:30 AM at our meeting point (will be informed). At 10:30 AM, we will reach for Charikot and reach there by 1:30 PM (roughly) lastly, we will arrive at our destination Kuri Village by 6:00 PM. Supper and Overnight at Hotel.
Day 02: Kuri Village to Kalinchowk/Return back to Kathmandu
Get up at 5:00 AM. Early morning move for Kalinchowk Bhagwati Temple by 5:00 AM. It is almost about 1.5 hours climb to the temple and we will have returned to our hotel by 8:00 AM for our breakfast. At that point, we will withdraw for Charikot Dolakha Bhimsen Mandir and will have our lunch at Charikot. At long last, at 1:00 PM, we will leave for Kathmandu. By 7:00 PM (roughly), we will arrive at Kathmandu.
Info
Kalinchowk Bhagwati Mandir Darshan.
Dolakha Bhimsen Mandir Darshan.
Rolwaling Range and Tamakoshi Hydro-control see from Cham puja Hariyali Park
4WD Off-Road Drive Experience.
Landscape and Amazing Mountain View.
Snow activities (During Snowfall).
You May Also Like