Mardi Himal Trek| Mardi Mountain Base camp Trek- 12 Days Trek to Mardi Himal Base Camp
Overview
Mardi Himal Trek- Short Trek in Annapurna Region
Make your holidays a chance to do some sensational activities in the lap of the Himalayas and increase some cultural experiences too. We have structured a restful program that you can take at your very own pace, yet that still empowers you to become more acquainted with the real beauty of Nepal – from the bazaars and sanctuaries of Kathmandu to the conventional environment of a town remain; too shocking Lake city of Pokhara. Situated at the east of the Annapurna Base Camp trek, the Mardi Himal trek is a hidden diamond, as few trekkers advance toward Mardi Himal's Base Camp, breathtakingly arranged at the base of Mardi Himal and the lovely and imposing Machhapuchhere or Fishtail.
Mardi Himal trekking route will give you an incredible spot to experience the real article if you are light on snowcapped involvement. The climbing outing can be joined with a trekking experience in the remote steep-sided valleys vigorously wooded with bamboo and rhododendron. It's noticeable quality on the wild zone of mountains intended to give remarkable mountain sees and to make tracks in an opposite direction from the tea-house trails and into the woods and towns that have not felt the effect of the tourism.
It is an incredibly delightful trek, taking you up through old rhododendron woodlands, to what feels like the essence of the mountains themselves, as you get very close with Annapurna South, Hiunchuli, Machhapuchhere, Ganga Purna, Annapurna I and Mardi Himal. At long last, we come back to Kathmandu valley to investigate Bhaktapur. Taking on this sensational voyage, you get the chance to encounter genuine experience and delight, abandoning you with life-changing recollections to treasure until the end of time.


Mardi Himal Trek Altitude
The Mardi Himal is at an altitude of 3850m where we can investigate the entire Annapurna Region wearing a snow outfit from high camp forward. Trekking over the path on the rough scenes, you can appreciate the stunning perspectives on mountains like Mardi, Machhapuchhre, and Annapurna. From the low camp, you will see the best perspectives on Machhapuchhre.

Mardi Himal Trek Cost
While it comes to trekking in Nepal, numerous travelers are interested in the expense of trekking. Be that as it may, you don't have to stress a lot. Trekking in Nepal is a lot of simple and modest when contrasted with trekking in different pieces of the world. Such is the expense of Mardi Himal Trekking. It is much cheaper.
Mardi Himal Trek Cost for our 5 days agenda costs around the US $500 per individual and cost may be negotiable depending upon the size of the travelers. This trek is adjustable, we will be glad to know your inclinations. Since the trek is customizable, we will be happy to know your preferences.
Also, the cost of the Mardi Himal Trek Cost depends upon certain factors:
The number of days you intend to spend on the trek.
Mode of Transportation.
The list of the things you gather in your packs.
The mode of accommodation and services you prefer
Mardi Himal Trek Permits
You need to have two permits for the Mardi Himal Trek:
1. TIMS ( Trekkers Information Management Systems) Card
A Trekkers Information Management System or TIMS Card is compulsory for all treks including Mardi Himal Trekking. TIMS permit is available from the Nepal Tourism Board (NTB) in Kathmandu. We can have our TIMS card inside 20-30 minutes. For this, you require to fill up the detailed information to the form at Nepal Tourism Board. Since this permit are not available at Online or cannot be filled up online. The required document for the TIMS permit is your two passport-sized photos. TIMS Card costs USD 20 for each individual.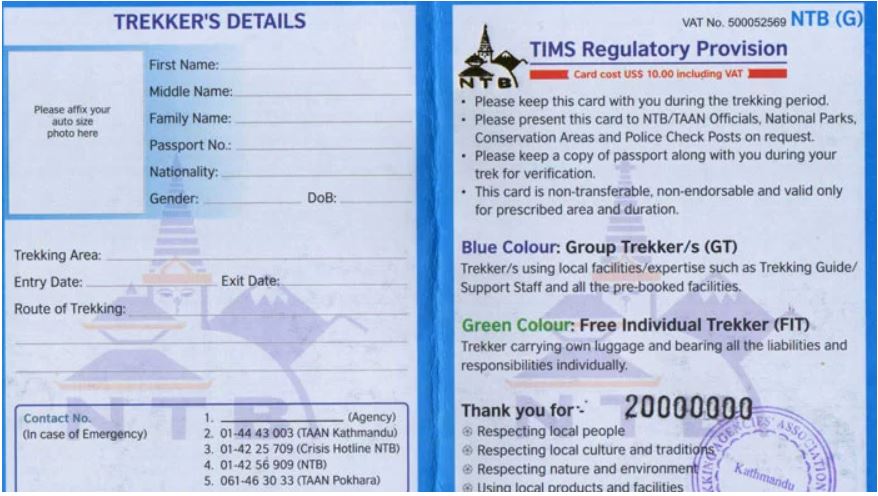 2. Annapurna Conservation Area Entry Permit (ACAP)
Without getting, Annapurna Conservation Area Entry Permit trekkers are not permitted to go into Annapurna Conservation Area. Annapurna Conservation Area Entry Permit can be acquired in the Nepal Tourism Board in Kathmandu, or on the other hand, it likewise can be gotten at its office in Pokhara. We get our national park entry permit checked at Nayapool and trek to Mardi Himal Base Camp. The required document for the TIMS permit is your two passport-sized photos. Annapurna Conservation Area Entry Permit costs proportionate to USD 20.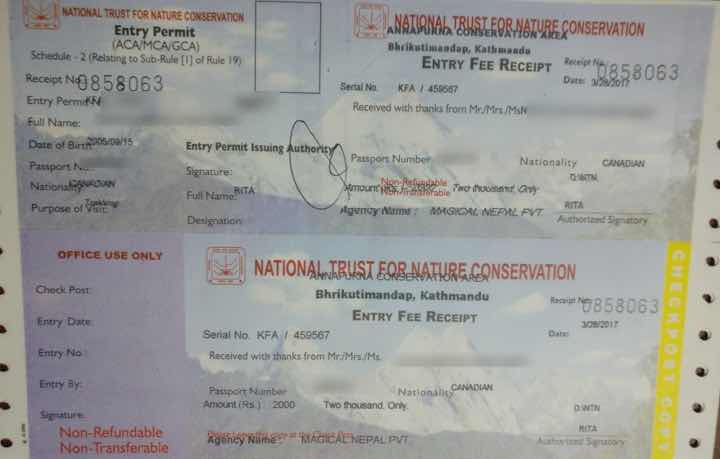 Mardi Himal Trek Accommodation, Meals and Equipment:
Accommodation
Mardi Himal Trek is all about the tea house trek. You will also find homestays at Deurali, Pothani, Forest Camp Trek, Low Camp, High Camp. Since these tea houses and homestays are traditional and simple. Do not expect any luxurious hotels during this trek. But they offer the best possible services and facilities.
Meals
In Mardi Himal Trek, you will find the menu of the food as local and organic food items. During this trek, you will be provided with 3 times meals with local food items. Since the teahouses in lower altitudes like Forest Camp, Pothani, Deurali, Siding, have more options in food items and cost may also varies i.e it may get low cost. Some of the food items that can be included during the Mardi Himal Trek are:

Dal, Bhat, Tarkari :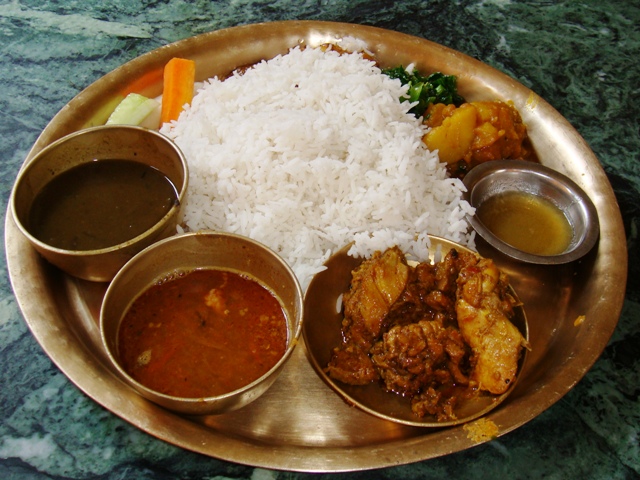 There is one saying in Nepali: "DAL BHAT POWER-24 HR"

Thukpa: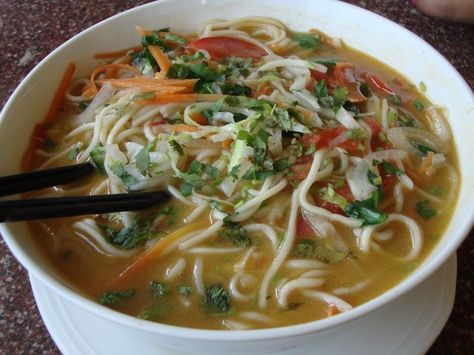 THUKPA
These are the basic foods that are available during the Mardi Himal Trek. Since you can also get continental dishes up to Dhampus, Pothani, Deurali and Forest Camp.

Summary fo the Mardi Himal Trek:

Overall to enjoy a new trek, this would be a good decision for the trekkers the individuals who search for an option in contrast to the bustling path of Annapurna Region like Annapurna base camp trekking, Annapurna circuit trekking or Ghorepani PoonHill Trekking. However, the trek is never short of the great mountain views, forest, astonishing scenes, and rich, traditional settlements.

Mardi Himal Trek Highlights:

Panoramic Mountain views Annapurna Range, Mount Macchapucchre (Fish-Tail), Mount Manaslu, Mount Hiunchuli, Mount Dhaulagiri
Explore the Villages and ethic culture and their lifestyle
Off the Beaten Path around the Annapurna Region
Observing Flora and Fauna
Pokhara Sightseeing
High Camp, Low Camp, Forest Camp
Day by Day Trip Plan
Day 1: Greeting at Tribhuvan International Airport (Transfer to Hotel)
Our Speedy Tourism and Travel member will meet you at the airport and exchange it to your inn. As you spruce up after your long voyage, you will be approached to visit our office for instruction on your program. You will have a gathering with your trekking guide and talk about the equipment required for the trekking and we will process for the trekking permits. If you arrive around evening time, we will have a similar discussion in the next day morning.
Day2: A full day recreational tour of Kathmandu
The exceptionally next morning, after breakfast you will be taken for an entire day touring visit around Kathmandu valley. You can visit the focal point of pilgrimage Pashupatinath Temple and Swyambhunath, exceptionally ancient and basically enrolled in UNESCO World Heritage sites. The greatest Buddhist Stupa at Boudhanath may make you feel quiet and harmony and visit Patan the city of expressive arts and Durbar Square is brimming with Hindu sanctuaries and Buddhist landmarks. On an adventure back to the lodging, you can investigate the neighborhoods and way of life. After your supper, you can maybe go for a relaxed walk through the well-known streets like Thamel and Durbarmarg.
Day3: Flight or Drive to Pokhara(820m), a flight of 25minute, Drive 7hrs by bus
After having your morning breakfast, we will drive you to the Domestic Airport to take a 25 minutes trip to Pokhara. Or on the other hand on the off chance that you wish you can take a Tourist bus to Pokhara around 6-7-hour drive investigating and getting a charge out of with grand excellence the whole distance around. At night, boating on Phewa Lake will be pursued where you can appreciate the awesome perspectives on the Annapurna Himalaya Range reflected in the entirety of its greatness in the quiet green water of the lake.
Day4: Pokhara Trekking to Deurali(2100m/6720ft):
Take a 30-minute drive to the roadside shacks of Phedi. The beginning of the trail heads up the slope on a lot of ventures over the street. The main part of the Dhampus valley is on the highest point of the edge, more than 500m above. The valley is inhabited by Brahmins, Chhetri's, and a few Gurungs. The breathtaking all-encompassing perspective on the Annapurna Himalayan range makes your overnight much greater. Overnight at Deurali at nearby guest house.
Day5: Deurali Trekking to Forest Camp(2520m/8064ft)
We will be trekking around 6 hours today. The trek enters charmed backwoods of rhododendron, mountain oak. The overnight camping here appreciates relaxation after a long extreme however adventuring trail. Overnight at Forest Camp in the nearby guest house.
Day6: Forest Camp Trekking to Low Camp(3150m)
As we climb, the vegetation has turned to great 'cloud forest' with greeneries and lichen, tree plants and orchids facilitated by the hardier trees. There are windows in the forested areas that post onto the exciting display – the sensational view of holy Mt. Machhapuchhere and Annapurna chains. Overnight at nearby guest house.
Day7: Low Camp Trekking to High Camp(3540m/11328ft)
We have our morning breakfast and begin trekking to achieve our most noteworthy purpose of the trek. On the off chance that conditions are positive, we will move up to 15,000/16,000 ft. The incredible ice fields and the blue glacier of the Annapurna sanctuary walls lie underneath us. The view we catch today will be always remembered. Overnight at nearby guest house.
Day8: Rest day or you can Trek to Mardi Himal viewpoint (4250m/13600ft), return to High Camp)
Today you can have the rest day, or you can go promptly in the first part of the day towards Mardi Himal Viewpoint to see the dawn in the mountain range. You can see Yak, sheep, and goats from lower town touching in the land. After an incredible view, you will trek down to High camp to rest at the nearby guest house. The perspective on the Himalayan vista from here is astounding. We can see Mardi Himal (5587m), Annapurna I (8091m), Annapurna South (7219m), Hiunchuli (6441m), Baraha Shikhar (Mt. Tooth) (7647m), Tent Peak (5695m), Singhachuli (6501m), Machhapuchhere (6993m).
Day 9: High Camp to Siding Village (1700m/5440ft)
After breakfast, today our journey begins an unhurried descent through the shade of the forest and out on to the terraced fields, down 1600m. This is an alternate course down to the upper Mardi Khola. Here, as we advance along the banks of the Mardi Khola from the slope town of Siding, down through the beautiful fields, passing simple farms and over the fascinating suspension bridges. There is no uncertainty this is the real beauty Nepal. Overnight over the nearby guest house.
Day 10: Siding Trekking to Lumre and Lumre drive to Pokhara
Today after breakfast, we begin walking through Kalimati Village where Brahmins occupant leaves. After Kalimati we will reach Ghalel mixed of Brahmin and Gurung individuals, we will trek till Lumre from Lumre, we drive back to Pokhara by jeep. O/N Hotel.
Day 11: Pokhara to Kathmandu
You can take a flight or drive by tourist/Private vehicle to Kathmandu. At night you can have your last night in Nepal enjoying the Nepali cultural supper taking some lovely snaps and deciding on the returning voyage. You can have greetings exchanging with your friends and with Nepalese people.
Day 12: Final Departure
We will drop you at the Tribhuvan International Airport for your voyage back to our home.
What's Included
What is included?
Get or Drop-off help from and to the Airport(in our own vehicle)
Kathmandu-Pokhara-Kathmandu (Bus Ticket/ Flight Ticket)
English Speaking Guide including his accommodation
3 Times Meals including Breakfast, Dinner, Lunch during Trekking
All the government taxes and company service charge
What is not included?
International Airfare
Visa Charges
Personal Expenses
Personal Beverages
Your Travel and Medical Insurance
Info
Duration: 12 Days
Max. Height: High Camp (4200m)
Trek Grade: Moderate
Best Travel Time: February-Mid-June, September – November are one of the best seasons for this trek. Dec and January are the winter season and can be snow on the trail, July and August are the stormy time, trekking should be possible however permeability can be poor because of the rain.
Takeoff Dates: We can offer this trek on any dates amid the months Feb, March, April, May, June, Sept, Oct, November and December for a gathering of 1 to 12 individuals.
Hardware rental: We instruct you to convey all with respect to your dress and apparatus from home, anyway in Kathmandu there are numerous shops to purchase and lease trek related gear
Your trek Backpack/duffle pack: Your things on the trek will be conveyed by our doormen, the most extreme weight per trekkers is 15 kg including your hiking bed and down coat, Other things not required on the trek can be put away in our office or your inn in Kathmandu or Pokhara.
Transportation: Tourist Bus, Private Car/Van, Plane.
Activities: City visit, Trekking
Trip Price
USD 500 per person
Trip Information
Country : Nepal
Group size : 1-5
You May Also Like