Mountain Flight Tour in Nepal
Mountain Flight Tour in Nepal
Is Nepal your next holiday destination? Are you looking for some best memorable activity in Nepal? Than daily 1-hour duration, Everest flight tour by plane from Kathmandu will be your best selection in which you can capture a glimpse of precious Everest peak & other heavenly panoramic places. For those travelers who are willing to view Mount Everest but not able to go trekking or have a very short time for a trek than add Mountain flight tour package offered by us in your tour basket. Speedy Tourism is providing the best price for daily Mountain flight ticket booking from Thamel, Kathmandu.
Mountain flight of Nepal is one of most exclusive flight tour packages in the world which provides a scenic view of series of Mountain including world's highest peak Mount Everest (8848m) up to the closer distance 5 nautical miles with long ranged Tibetan plateau.
Daily one-hour duration Everest flight's online ticket booking service of operating airlines Buddha Air, Simrik Airlines, & Yeti Airlines is available with Speedy Travels. We offer you up to 10% discount on Mountain flight ticket of price USD 205 for foreigner (beside Nepali and Indian Citizen) includes airport tax and flight ticket cost along with both ways free airport transfer from your hotel in Kathmandu valley to the domestic airport in Kathmandu.
Imagine that you are around the world of Himalayas. You can see nothing beside snowcapped shiny peaks. Front of you the top peaks of the world is rising with a glimpse of earlier morning golden sunshine and the reflected precious light is striking on your eyes. Surely Mountain flight in Nepal is one the world's most exciting flight tour at Himalayan region of Nepal which provides you scenic view of the different popular mountain, Tibetan plateau, Himalayan glacier, and hillside of Nepal, etc. Mountain flight is one of the most preferred flight tour packages at Nepal by all categorized traveler. Mountain flight in Nepal makes your Nepal visit lifetime memorable with a superb chance of a splendid view of long Mountain ranges on the northern part of Nepal.
The major attraction of mountain Flight/Everest Flight
During one hour earlier morning flight operated by domestic airlines of Nepal, You can have view of Mount Everest (8,848 m from 5 nautical mile close), Lhotse(8516m),Nuptse(7855m), Amadablam (6812m), Chamlang (7319m), Makalu (8463m), Gauri Shankar (7134m), Langtang Lirung (7234m), Annapurna (8,091m), Manasalu (8,136m), Ganesh (7,429m), Kanchenjunga (8,586) and other more small peaks. Beside Mountain peak, you can also have a view of Tibetian Plateau, Hill range of Nepal, Himalayan glacier, and river view following on the southern part and Photography of Mountain range from Cockpit.
Mountain flight and Global Warming
Glaciers in the Mount Everest region & other Himalayan region have shrunk by 13 percent in the last 50 years and the snowline has shifted upward by 590 feet (180 meters). Mount Everest is one of the great evidence for the impact of global warming in the world. Mountains of the world are slowly losing their snowcapped peaks and are changing at the black rocks. Nobody can assure that how long this beauty of the mountain will remain. So if you say that you will fly Mountain flight on next visit then you may not get similar beautiful mountain region like today. So let's fly mountain flight today and spread out the message of global warming and our melting Himalayas to the world community. Let's start a campaign for saving our Earth and our next generation. Save our earth for the forthcoming generation.
Some of the Glimpse of Mountain Tour in Nepal by Speedy Nepal: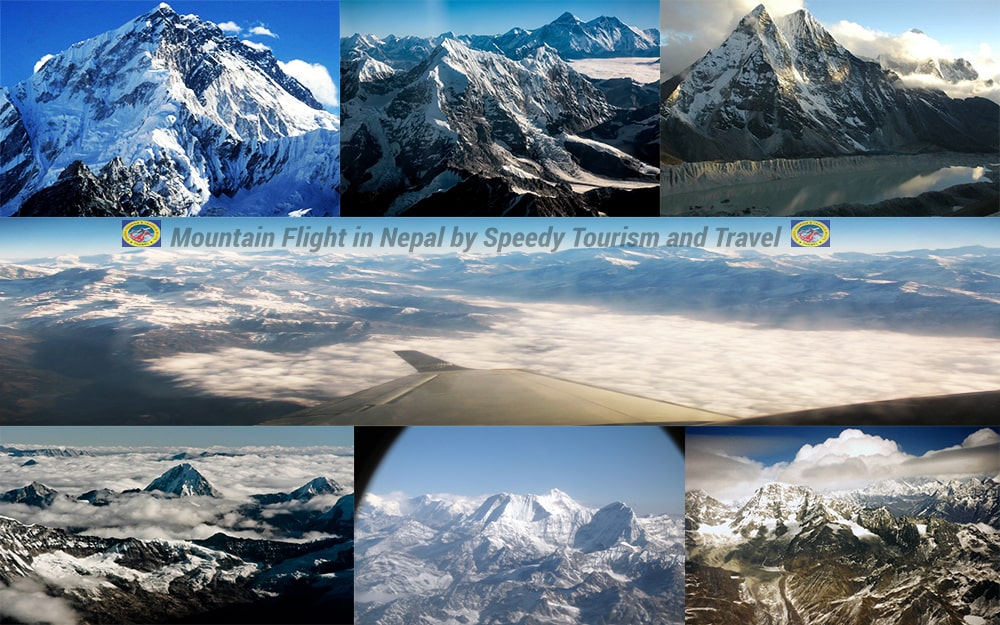 Mountain Flight Tour Highlights:
Fly over the most astounding mountain on the planet Mount Everest(8848m).
Seat by the window for each traveler if the group is small
Get the staggering perspective on regular widely varied vegetation
Feel the sentiment of flying over valleys and plateaus
View the mountains like Mt. Everest, Mt. Lhotse, Nuptse, Mt. Makalu, and some more
Wheelchair services are also accessible to visitors.
Why book Mountain Flight with us!! Free private transport from your hotel to the airport and back
We are a direct authorized sales agent for Mountain flight ticket booking in Nepal with Buddha Air, Yeti Air, Simrik Air & Sourya Air as our ticketing partner. Our office is located at tourist hub of Kathmandu, Thamel, where you can get the cheapest deal for Mountain flight ticket. To directly contact to us enquire us on:
https://www.speedynepal.com/contact-us
Price for mountain flight ticket charged by our company is as per airlines price. For a number of traveler 3 or more than, we provide free private transportation service from your hotel inside Kathmandu to airport and back to the hotel. We are also providing hotel/apartment/home delivery service at free of cost inside Kathmandu valley and Pokhara.
Mountain Flight Tour in Nepal Cost/Price:
Mountain Flight Duration: 1 Hour
| | |
| --- | --- |
| Citizenship | Currency |
| Nepalese (Per Person) | 11,000 NRs (Nepali Currency) |
| Indian (Per Person) | 9,382 IC (Indian Currency) |
| Foreigners (Per Person) | $200 USD (American Dollar) |
Mountain Flight Tour from Pokhara:
Mountain flight tour in Nepal can also be done from Pokhara. After you have sightseeing around the Pokhara ( Phewa Lake, Begnas Lake, Peace Pagoda, Davie's Fall, and so on), you will be received from your Hotel and then transfer to Pokhara Airport. Since the cost/price for the Mountain flight Tour from Pokhara is also similar to the cost from Kathmandu.
Mountain Flight Departure Schedule Throughout the Year with the Airlines

Availability: Daily departure
Price Includes Two-way transportation from the hotel to the domestic airport at Kathmandu guided by company representative, One Hour mountain flight ticket (Buddha Air, Yeti air or Simrik Air), Domestic airport tax & free delivery service of Mountain flight.
How to Book the Flight Ticket from Speedy Tourism and Travels Pvt Ltd
You can directly Book your flight ticket from Speedy Tourism and Travel either by direct contact at +977-9851077317 (Mobile and Viber) or either inquiry at speedynepal@gmail.com with your details about the trip date and the number of travelers. For further details about the trip, you can directly contact our office at Amrit Marg, Thamel, Kathmandu (Nearby Chaya Centre), 01-4417928,01-4417907 or click on the link below:
https://www.speedynepal.com/contact-us
Cancellation, Date changes and Refund Policy of Mountain Flight ticket
All the mountain flight ticket issued by our company is refundable. You will get full refund amount in case of flight cancel because of bad weather, low visibility, any technical problem or if any other problem by side of Airlines.
10 % amount will be charged against flight canceled by you (passenger) with 24-hour prior information by email, phone or office visit. First Date change at available date will be at free of cost on 24-hour prior information by email, phone or office visit.
Note: We also provide 4 seats, 5 seats, 6 seats and 19 seat Helicopter charter service for scenic mountain flight tour with landing at Everest base camp and breakfast at Tengboche.
Mountain Flight & City tour package
1) Mountain Flight+ Pashupatinath Tour: $ 215
2) Mountain Flight+ Pashupatinath+ Bauddha Stupa Tour: $ 220
3) Mountain Flight +Bhaktapur Durbar Square+ Patan Durbar Square Tour: $ 230
Includes:
One hour Mountain Flight ticket with domestic airport tax, Government registered tour guide, Private transportation, Government registered guide wages and his require expenses
Excludes:
Meal or beverage at the time of the trip,
Entry fee at Pashupatinath Temple, Boudhha Stupa, Bhaktapur Durbar Square and Patan Durbar Square