Kali Gandaki River Bungee | Kusma- Baglung Bungee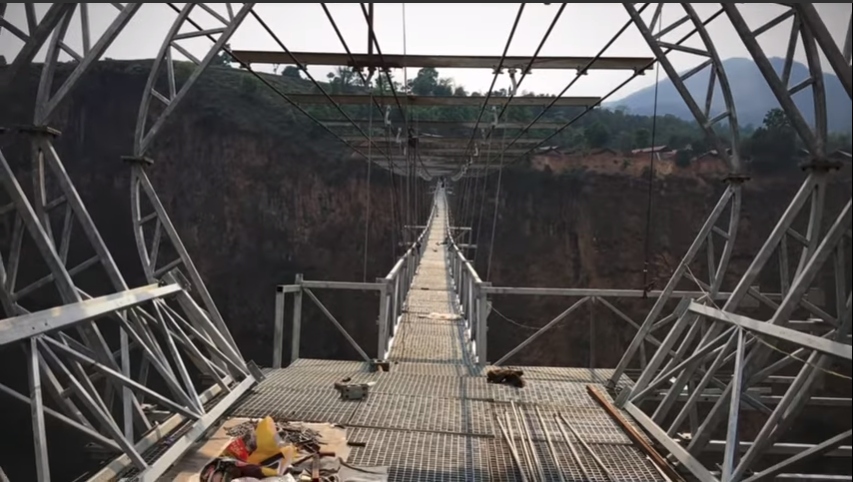 Kali Gandaki River bungee at the suspension bridge between Kusma, Parbat and Narayansthan Balewa Baglung is the highest bungee jumping in Nepal and is coming in operation by January 2020. Besides, The last resort Bhotekoshi River bungee and tower bungee in Pokhara is the third bungee in Nepal, however, it is extreme and highest among all. Likewise, for adventurer enthusiasts, this spot provides an additional opportunity of exciting swing and thrilling sky cycling.
The Cliff Kaligandaki River Kusma Bungee Height
At a driving distance of 2 hours, Kali Gandaki river Kusma Bungee is the third-highest of it's kind in the world. The Kali Gandaki River Kusma bungee is 224 m. Likewise, the length of the suspension bridge connecting Kusma and Baglung is 500 meters plus.
The Bungee, swing and the sky cycling is operated by The Cliff Private Limited.
Immerse into the most exciting and thrilling adventure experience with Speedy Nepal and book your "The Cliff Kali Gandaki River Kusma Bungee" at the best cost price with quality service. For novice jumpers, you can try tower bungee at Pokhara and for intermediate jumpers, The Last Resort Bhote Koshi River bungee is recommended.
First Sky Cycling in Nepal
The cliff is constructing the first sky cycling in Nepal at the same spot near the bungee in Kusma. The length of the cycling track is and it is a first of its kind in Nepal.
The cliff Swing in Kusma
Beside the bungee and Sky cycling, the swing is another adventure for an adrenaline junkie at the same spot in Kusma. The swing offers the longer duration of freefall experience than that of bungee and this swing experience is going to be extreme. The cliff is planning to operate the first sky camping in Nepal over the suspension bridge at the same spot. However, we will have to wait for it for a while.
The cliff Kali Gandaki River Kusma Bungee Itinerary
Speedy Nepal provides customized itinerary according to your preferences.
Kusma Bungee Cost Price Includes:
Two-way transportation cost

Videos and photos of the Jump

Bungee and necessary equipment cost

Bungee insurance
Kusma Bungee Cost Price Excludes:
Nepal visa

Travel insurance

Personal expenses and anything not mentioned in the cost includes section.